This lively park has a remarkable and moving story behind it.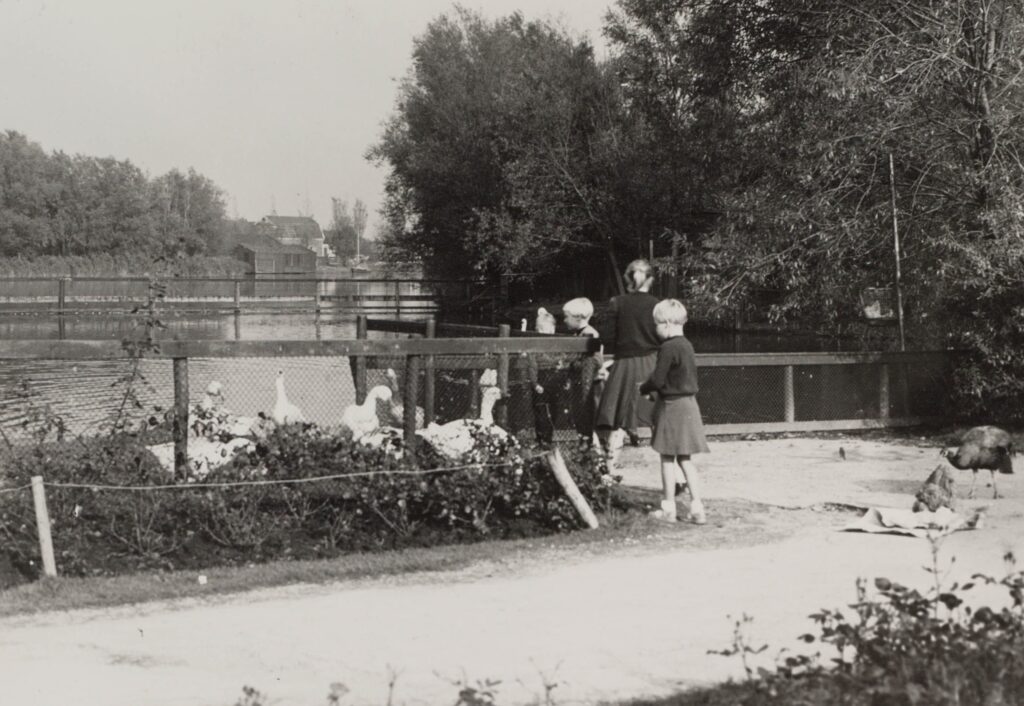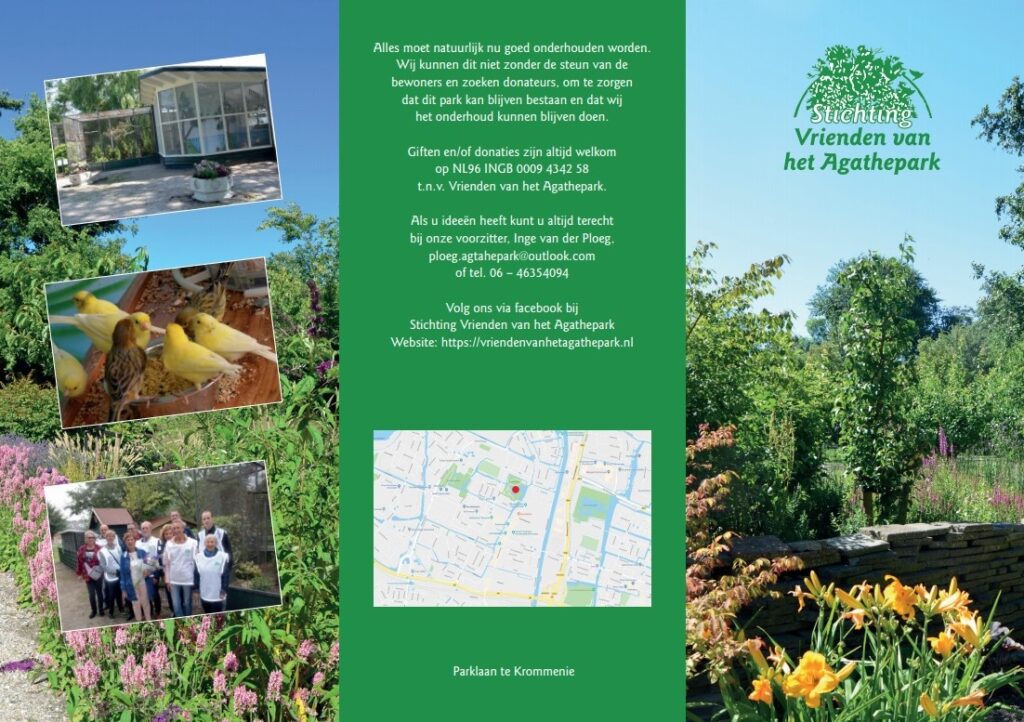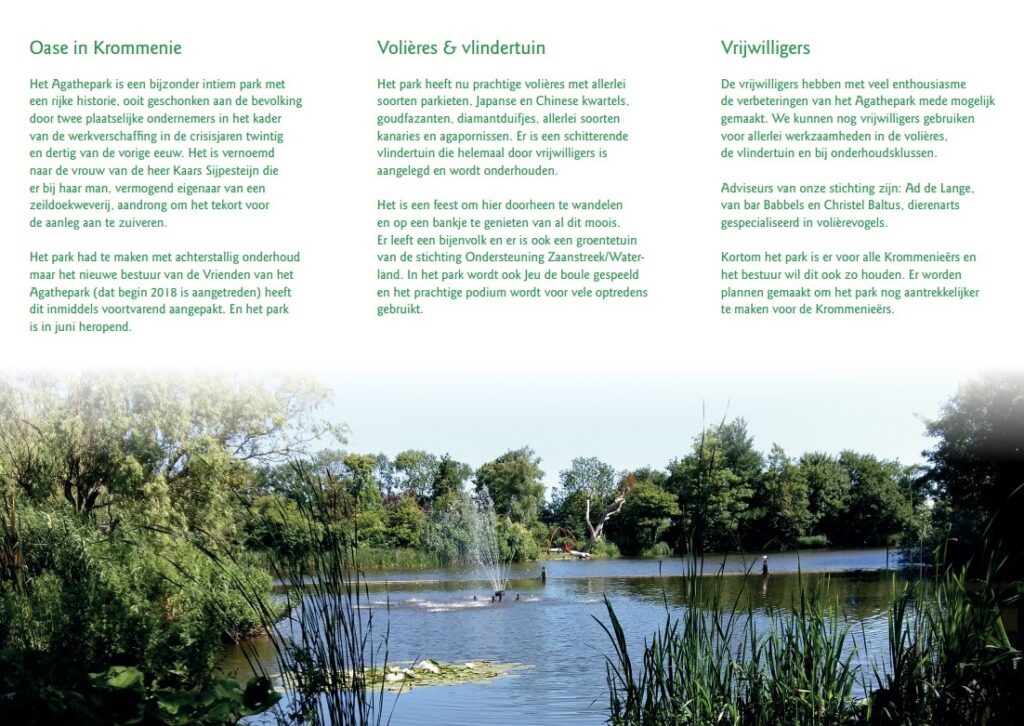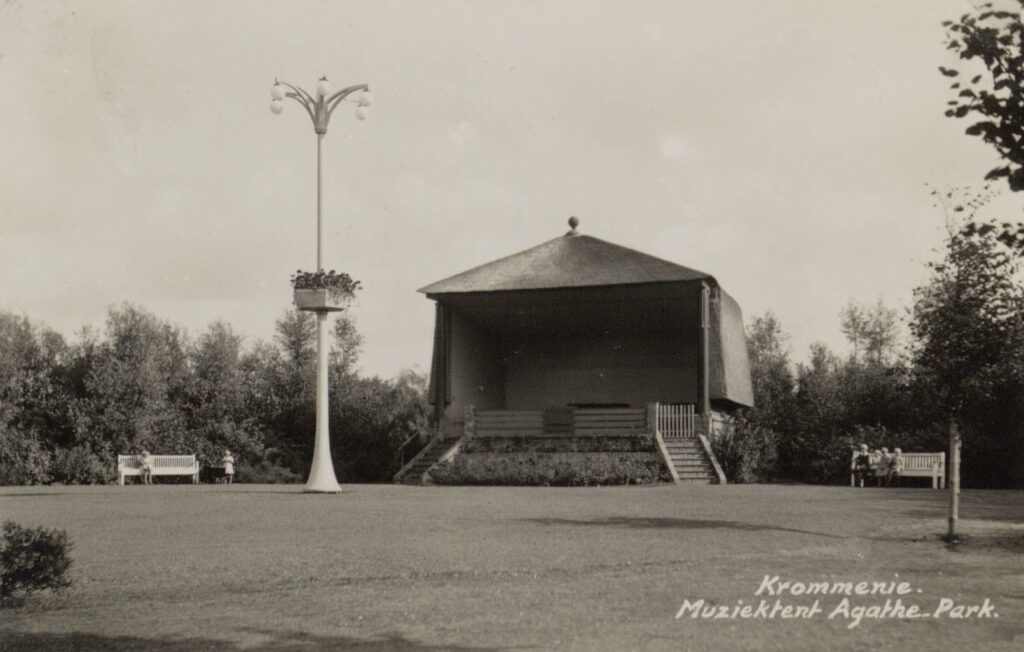 In celebration of the 60th anniversary of his cigar factory, Barent Jurriaan Baars (1871-1955) decided to endow his home town Krommenie with a park. He donated 3000 guilders (now around 25.000 euros) to ensure Krommenie would have a place for leisure and cultural experiences, including a bandstand for the musicians of "Onderling Genoegen" (Mutual Pleasure), a group founded by his employees in 1896.
The town council preferred to build more houses, but mayor Klerk decided such a generous gift should be honoured. Some plots were bought off local farmers and the first trees were planted by school children in 1929.
But the money soon ran out and Agathe Kaars Sijpesteijn-Crok (1865-1929) persuaded her husband Hendrik Pieter Kaars Sijpesteijn, a wealthy manufacturer of linoleum, to donate another 43.000 guilders. The town council came up with roughly the same sum in 1931 to provide work for the many unemployed in the village. All in all, when the park was finished it had cost the equivalent of over 700.000 euros.

The grounds were designed in the landscape style typical of the period. A high bridge spanned the ditch, so as not to impair the farmers who used boats for transport. The northern part of the park remained an open area designated for sports (it had an ice rink in winter), whereas the south became a shady park with aviaries and the bandstand (with remarkably good acoustics). Over the years other items were added, such as seats, sculptures and a fountain to mark the 25th anniversary. At one time, the aviaries even housed some monkeys!

The official opening was September 12th, 1931 and the ribbon was cut by Anna Kaars Sijpesteijn, daughter of Agathe and Hendrik Pieter. Four years later the park was officially named after her mother, in grateful recognition of her efforts. Obviously, "Ons Genoegen" provided the music on that festive day, at the same time celebrating their 35th anniversary. They still exist today! Soon, the Agathe Park became the lively meeting place for culture and nature lovers in Krommenie. Its heyday was in the sixties, but by the end of the last century constant cuts in maintenance resulted in it becoming derelict. The sculptures were vandalised, the bandstand burned to the ground more than once, and the paths had turned into muddy tracks.

In 1989, a group of concerned villagers led by Jan Raap (1925-2009) got some 1600 people to sign a petition, which was delivered to the city council and in that same year the aviaries were renovated. In the years that followed, the whole park was gradually restored to its former glory. The volunteers were awarded a special prize for social renewal by the town hall in 1994.